Latitude 43
Living and teaching in Chilean Patagonia.
Latest posts on Latitude 43
I just started a new blog, Altitude 1.6, where I will chronicle my upcoming year in Bogotá, Colombia. Please read my first post and click "Subscribe!" at the bottom right if you would like to get email updates.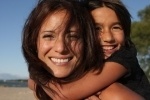 Free advice and quotation service to choose an expat health insurance in Chile.
>> Click here