Blog of the month - September 2008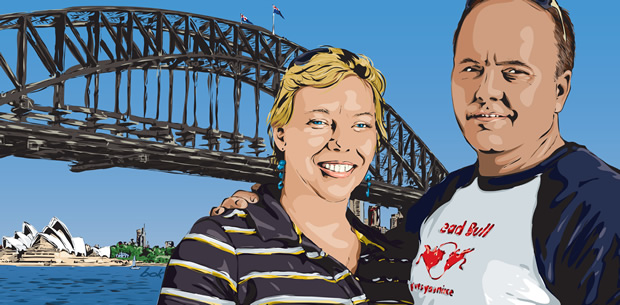 The Mupersan's Australian Adventure
Both South Africans, Mandy grew up in Cape Town, South Africa and Scott spent most of his childhood in Port Elizabeth. Scott moved to Cape Town in 2003 and we met a year later at a rugby supporter's club. We were married 2 years later.


Where are you living now?
We arrived in Sydney at the end of February '08 – yip, we're fresh off the boat! We initially found an apartment in a very leafy suburb called Wahroonga – it's in the north of Sydney about a 45 minute train journey to the city. We chose this spot because we had some visitors coming out from South Africa and wanted to ensure that they could get around easily – the train station was a 5 minute walk from the apartment. Sydney is HUGE!!! And that's an understatement! We wanted a temporary base from which to explore Sydney so we could decide where we wanted to settle down. We decided on the Northern Beaches area right from the beginning – it's absolutely stunning! And the lifestyle is exactly what we were looking for – outdoors, active, a village atmosphere and amazing scenery. We found exactly that in Mona Vale – we've been in our new apartment for a few weeks now and are loving it.

How long do you plan to stay?
As long as Australia will have us! We're here on a 4 year work visa but plan on applying for our permanent residency within the next 2 years.


Have you ever lived abroad before?
Mandy did a stint in the UK back in 1995 – she had a blast but didn't enjoy living in the UK. Scott had travelled extensively throughout South Africa but had never crossed the ocean before.


When did you decide to go and live abroad?
Mandy has wanted to come to Australia since leaving school – Scott since he was about 13. When we met, we decided that we would make a concerted effort to realise our common dream. And here we are!


Why did you choose to live in Australia ?
Mandy's brother's godfather moved to Australia when she was in primary school. He'd visit South Africa every year and she'd loved hearing about the kind of life he was living in Australia – this lit a small flame. And then in her matric year, there was an Australian exchange student in her class who fanned the flame. And then a few years back Mandy's brother moved from New Zealand with his Kiwi wife to Perth. That's when the flame became a roaring fire!!!

Scott's flame was lit when his Dad was due to be transferred to Australia when he was 13. Unfortunately things fell through and it didn't pan out. But the flame had been lit. He left school, studied a bit and then started working..... Life kinda happened but he hadn't lost that longing to get to Australia.


How would you describe Sydney? What do you like the most about it?
The Northern Beaches of Sydney are amazing. Sure, it takes longer to get to work. But the payoff? Beaches, beaches and more beaches. A few minutes up the road from us is Palm Beach – aka Summer Bay in Home & Away (Aussie soapie). The beaches are lined with Norfolk pines and backed by bushland and houses amongst the trees. The sand is a beautiful rich rust-colour. The surfing's great and the water's warm in summer. The villages along this stretch of the coast are just that – villages. There's a holiday atmosphere here – people are so relaxed and friendly. There aren't just chain stores – the greengrocer has survived along with the local butcher who takes such pride in his meat displays. We used to have a holiday house outside of Cape Town – a place called Onrust (near Hermanus). We loved being able to hear the sea as we fell asleep at night. Well here we have it even better – we can see the sea while lying in bed!!!

We feel like we're going on holiday every day that we come home. Now THAT'S living!!!


What is your occupation there?
Before leaving South Africa, Scott & Mandy owned their own Audio Visual company.

Scott was sponsored by an audio visual company in Sydney to come over as a senior technician. In the short time we've been here, he's gone from strength to strength.

Mandy is working as the members secretary for a country club – less than 10 minutes away from home and the work is keeping her out of mischief!


Do you miss anything from your South Africa?
Aside from our family and friends - and our cat – no, absolutely nothing. Australia is our home now.


When did you start blogging?
Mandy started writing the blog when we arrived – in fact the first post was written at 11000feet and posted when we landed. The main reason was for family and friends to make the journey with us. A bulk email to everyone just didn't sound exciting enough so we decided a blog would be a better medium. It's also a great diary for us – we can look back and see what we've done so far and sit amazed at how far we've come in such a short time. Scott doesn't spend much time on the blog at all – he just doesn't have the time. Mandy does most of the writing and would like to write far more than she actually gets around to. There's definitely got to be a balance between spending time doing amazing things and spending time telling other people about the amazing things you've done.


When did you register on expat-blog.com?
I came across the Expat-blog site a few months ago when I was doing a search on other expats with blogs. I'm very glad I did – I've got to read (and learn) many different people's experiences abroad.


Your best souvenir?
The Mupersan Blog itself actually – we are living our dream! Reading the blog is like pinching yourself to check that you're not dreaming!
2008 © Expat-Blog © 2008