Blog of the month - March 2009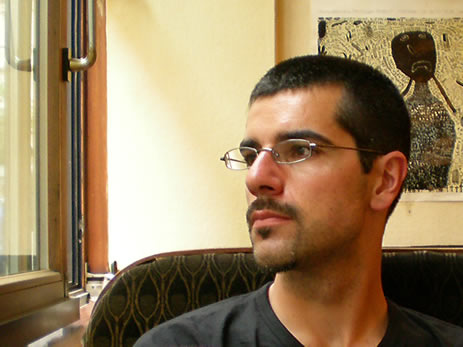 Die Murmeltierjahre im Land des Frühschoppens
My name is Toni and I was born in Tarragona (Spain), but I left it for Barcelona as I was 17 years old. I lived in Barcelona till 2004.
I am living in Salzburg (Austria) since 2004.

How long do you plan to stay ?
I really don't know. I don't think it is mentally healthy to set yourself such "deadlines", I prefer making decisions on the fly. That's how we decided to come to Austria in the first place.

Have you ever lived abroad before ?
No, this is my first expat experience. But I must say after the first experience, the second might come along. Because there are a couple of places (Berlin, London, New York City) that attract me a lot.

How many countries have you visited ?
Not as many as I would like to, mainly still in Europe: Spain does not count, France, Italy, Germany, Austria, the Czech Republic, the USA, Switzerland, Sweden, Norway, Greece, England, and I think that's it. I am really eager to visit Africa and Asia. Someday.

When did you choose to live abroad ?
In 2004 I got a job opportunity here in Austria. At first I would have had to stay in Barcelona and come here for two or three week periods of time. But one day my girlfriend and I said: "And why not forever?" And so it began.

How would you describe Salzburg ?
Salzburg is not at all big (some 150.000 inhabitants) and has a rather provincial flair into it. A true jewel for Baroque architecture lovers, it attracts tourist masses through the beauty of the Old Town and the classical music offer. It is, though, a rather boring city compared to Barcelona. The perfect place if you are looking for a quiet place to retire.

What do you like the most about it ?
The fact that it is right in the middle of Nature. You do not need to drive far to reach lakes, mountains or woods. They are (literally) five minutes away.

What is your occupation there ?
I work as a mathematician for a small engineering company.

How is / was the cultural shock ?
It was big, especially because of the language: not everyone can (or is willing to) speak anything but German, and the Austrian regional variant is a really tough one to understand and has little to do with Standard German as you may learn it in a language school.
But I think open-mindedness and humour are the keys to survive. The cultural shock is still here, but eventually you learn to live with it.

Do you miss anything from Barcelona ?
Family and friends go without saying. And it turns out the things you end up missing are rather surprising and apparently insignificant, like the noise of a jackpot machine in a bar, or the colour of earth, or the very peculiar smell of the Spanish broom in Spring. But I guess what I miss the most is the sea. Having grown in a coastal city, being inland always feels as being trapped.

When did you start blogging, and for what reasons ?
I started my blog in May 2007. First of all, I wanted to put in words those facts that surprised me about this country, its customs, its language and its people. I wanted to explain what my feelings along the way were, too. The second reason was to try to force myself to practice English again. Because as I started being able to communicate decently in German, it turned out everyone I talked English to before was a German speaker. I realised I was quickly loosing my English skills and wanted to do something about it.

Did its original purpose changed along the way?
I'm not quite sure, but I would say it did. Because I often surprise myself writing about other things, sharing random thoughts I have, or publishing pictures without words, not at all talking about Austria. I guess the blog evolved a bit from the beginning because I evolved, too.


Do you spend a lot of time on it ?
It is not only the act of sitting down on the computer and writing something, but what really takes a lot of time is to take the pictures, to put words to that thought or that feeling, to try to make a point and to find new topics and ideas. But since I started with my blog I surprise myself thinking about it, about what to write, about how to write it, about how to take this or that other picture, and it happens every time, as I am in the bus, as I walk around. So it's kind of a 24/7 job that I am very happy to do.

Did you make new friends with your blog ?
A lot. It is really something you cannot imagine as you start blogging. Your first thought is "Who in the world is going to be interested in my ramblings?" But quite soon you get a little feedback, a comment here, a mail there, and you realise that there are a lot of people out there. And some of them come again, and again, and you visit them, and you read about their lives, and they read about yours, and you might really say you've got a new friend.

Have you ever met somebody you spoke with on your blog ?
Yes, I have. And I must say it is a really interesting experience. Because you know a whole of a lot about that person, how he feels about almost everything, or what does she think, what makes him laugh, what makes her sad. You have the feeling you are meeting an old time friend. At the same time, though, you have probably never seen her face and for sure you have never heard his voice. And all this creates a very interesting contradiction in your brain. It is really fun!

When did you register on expat blog and why ?
I registered on June 2007. I was looking for someone like me, writing about Austria from the point of view of a non-Austrian. The whole idea of expat-blog seemed interesting, so I signed up immediately. I guess I've got many new readers through expat-blog. Thanks! :)

Any 'memories of an expat' you would like to share with other bloggers ?
It's been 4 years as an expat now, and I think it is still very important to try to keep an open mind about your life, not taking anything too seriously, knowing that there are going to be bad moments, which you should take with humour. Another important point is to look for the similarities and not only for the differences between you and the people around you.

Your best souvenir ?
Mastering another language, which not only opens you many new doors, but also opens your mind in ways you could not imagine.

Or maybe your worst experience ?
The sheer impotence when you are not able to communicate, to convey a message to others. When some people look down on you, the kind of people that think just because you are foreigner and cannot speak their language properly you must be stupid and treat you accordingly.

2009 © Expat-Blog © 2009