Blog of the month - April 2009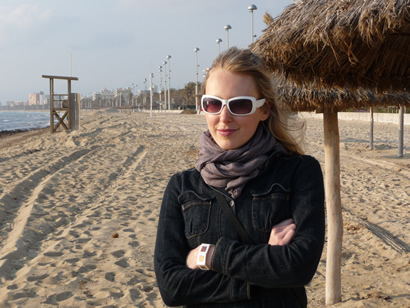 Frou Frou
Hi, my name is Linda and I am from the Czech Republic. As for age, I am in my early twenties and thoroughly enjoying the last year and half of studying I have ahead of me.
Where do you live and for how long are you planning to stay?
Right now I am living in Alicante, Spain and attending the uni here. I definitely am staying until September even though I am sure I will not want to leave... or will I?

Have you ever been an expat abroad?
Well, not sure if I can call it "expatriation" but I worked for four months in the US one summer and another summer in Southern France...

How many countries have you visited?
As for the countries visited, I saw many from Europe and then I also visited the US and Canada. I have a thing for visiting/staying in countries whose language I speak and it in total I have been six times in France... the north as well as the south. As for this year, I would like to use my current location as an excuse (yes, excuse!:) to discover more of Andalusia or the west coast of France. And Portugal. And Oviedo... And Morocco... And...

Do you miss your anything about your country?
Not at all.:) I think that the Czech Republic IS a very nice place to live but after all, I have been there for a long time. I have a weak spot for French, Spanish, traveling, SUN, Mediterranean cuisine and everything foreign in general so... And for me, home is where the sun is (thanks, Dave, for this quote:).
Well, there is one thing I really do miss actually: the doctors I go to at home!! I hope not to see a doctor here again. For the lighter note, I might be missing (coniferous) forests and turkey schnitzels but such cravings are fully compensated by the abundance of sun and availability of fresh seafood!!:))

Your best souvenir?
The feeling you get once you really know the place and you feel like you belong there, you know people, places, you have a favorite bakery, cafe, piece of the beach, daily rituals.
And you know the place is a piece of you now...
Being able to speak with ease the local language!!
Also, participating in local events such as the Alicante Carnival or travelling - walking in the Parc Guell in Barcelona during a beautiful February sunset is one of my favourite Catalunya memories...
Meeting people from here/living here is very rewarding as well (even though I am realizing that I am regularly seeing people mainly from South and Central America or Portugal, I wonder why:)

Or maybe the worst experience?
The worst memory - going to the hospital and dealing with theft.


When did you create your blog and why?
I created my blog two years ago and I use it as a diary because, well, people forget things.
Not sure if I can use the word "friend" but throughout the blogosphere I met many interesting people whose blogs I follow and I would definitely love to meet up if the occasion presents itself.
If I have time, my favorite ritual is to start a day with a lovely breakfast and my Google Reader.:)

What do you think of the site Expat-Blog ?
Excellent idea because like this I found easily and quickly blogs from places I have interest in. Thanks for this site!

2009 © Expat-Blog © 2009