Blog of the month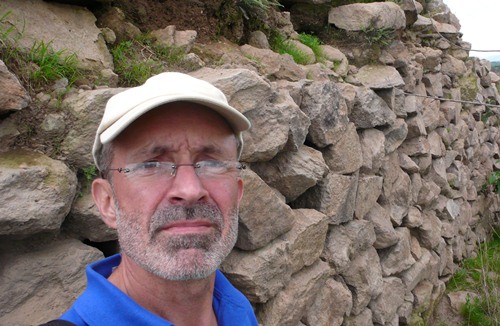 An Alaskan in Yucatan
I am Marc Olson, born in Ketchikan, Alaska. I had the opportunity to move around with my family as a kid, and actually graduated from high school in Florida, but spent most of my life in Alaska, until I moved to Mexico full time in 2005.
When and how did you decide to move to Mexico? Is it complicated to settle down there?
I took Spanish classes, and did volunteer work as a teenager that took me south of the border, and that early experience set the stage for much of what I have done as an adult. I traveled a lot in Mexico in later years, and after I hit my forties, began looking for a place to retire to. I felt at home in Mexico, and figured although I didn't plan to move away from Alaska, that in my older years I'd want a warm escape. I found that Yucatan. The only thing I didn't plan on was actually selling my house and most of my stuff in Alaska and moving to Mexico to live full time. Moving can be complicated, but if a person does enough research and tries a place out for a while first, it can work out very successfully. I've written about this topic many times in my blog.

Have you ever lived abroad before? How many countries have you visited?
I had never lived abroad before, but traveled a lot for extended periods. I haven't kept track, but work and my interests have taken me to about thirty countries. I once "borrowed" a friend's apartment in Paris for a while. Another time I spent six months traveling in Europe, spent time in Egypt and Israel, and I did volunteer work in South and Central America. Work took me twice to the Soviet Union back when it was under Gorbachev. I also lived and worked for many years in Native villages in Alaska. So being out of the U.S. and mainstream culture was not a new experience to me.
What do you like the most about Mexico/Yucatan?
I love the tranquility, easy way of life, and the importance that family and friends -relationships - have in the culture. Sometimes it feels like being in a time machine, almost like living in the U.S. in the 1950's. Where I live it is safe and very friendly. It's possible to live very well on a small budget.
How is/was the cultural shock? What are the main differences with USA, your home country?
Now I experience culture shock when coming back to the U.S. and not the other way around.
Culture shock certainly happens when we move away from our country. I was well prepared, and still I went through it. Each person is going to react differently. If a person is adventurous, is flexible, and doesn't expect things to be the same as "back home," they can adjust and enjoy a new life here. There are so many differences... I recommend that folks who are interested go back and delve into my blog posts, and look at other blogs about Mexico, such as the ones I have listed in my blog roll and which are listed in Expat Blog.
Do you miss anything from your homeland?
Sometimes I miss the changes of the seasons up north and at times I long for more fresh "sweater weather." I do miss the country in Alaska, and longtime friends. But I go north to visit from time to time, and that's enough.
Any 'memories of an expat' you would like to share with us? Your best souvenir? Or maybe your worst experience?
I have made many friends since moving. Some are other expats, many are Mexicans. I've learned a great deal about life and being happy by living among my Mexican neighbors and friends. I think those are my best memories.
When did you start your blog? For what reasons?
I wanted to communicate with family and friends. Later, when strangers began commenting and writing to me, I realized that blogging is a great way to meet new people with common interests. I have met many of these people, and some have become good friends. I have other far-flung "friends," people I really like and enjoy communicating with, whom I have never met. It's always interesting. The writing and photography is something creative that I enjoy doing. I would still do it for myself, even if the audience was tiny.
Did you make new friends with your blog?
Many, as I mentioned in the answer to the previous question.
Why did you register on expat-blog.com and what do you think of the website?
I like to read other blogs, and reading blogs is as important and informative to me as reading the news every day. I read articles and follow discussion topics, but mostly I use Expat-blog to find interesting new blogs to read.
Which advice would you give to the other Expat blog members who would like to settle in Mexico?
I'd advise people to study Spanish, explore a lot and come down and rent for a trial period of at least six months before deciding to move. The best resource available for people thinking about moving and living here is the number of great blogs out there written by people who are already living abroad.
Expat Blog © 2012