New member
From: Colombo
Registered: 2012-10-13
Posts: 9
Any advice for Indonesian Travel
I have traveled much around would like to do same in Indonesia
Team
From: Pamplemousses
Registered: 2012-05-02
Posts: 19610
Re: Any advice for Indonesian Travel
Hello jonny199.


So as to make it more visibile, your post has been moved to the Indonesia forum.

What are you looking for exactly?

Thank you,
Aurélie
ViP
From: Jakarta
Registered: 2009-08-02
Posts: 2307
Re: Any advice for Indonesian Travel
I'll field this one.

Lets to go.

Luggage - A rucksack - as small and light as you can get away with.
Try to use one that can be carried as hand luggage as that saves a load of messing about at airports.
Table napkins - many uses - don't ask, just thank me later.
Buy sun cream here.
Anti mosquito cream. Autan is a local brand that works very well. If I use it, I never get bitten. It's available in small bottles or sachets.
Malaria tablet - give me a seriously bad tummy and are likely to make the table napkins run out quicker.
Tent - no point as there are cheap hotels all over the place.
Cooking gear - no point - you wouldn't believe how easy it is to get cheap street food.

Clothes.
Shorts - 2 or 3 pairs
Ultra light trousers - 1 pair - You'll need these to get into some places such as a mosque, church or any government office.
T shirts. It's hot so you'll likely use 2 per day.
Underwear. Boxers allow a breeze and it can get very hot.
Socks - 1 pair for cold places or if you walk a long way.
Shoes - none, just a pair of high quality sports sandals.
Hat - I use a traveller's baseball cap that has a folding peak so it slips in my pocket when I take it off.
Poncho - the waterproof type. Too hot for a raincoat but it rains a lot. Ultra light ones are available in Ace hardware if you can't get one in your own country.

Sleeping bag - none.
Get a piece of lightweight material, 1m wide and 2.5 times your height then sew it into a sack shape. That's easily enough to keep you warm in the cold areas and keeps the insects away.
It's also very light and easy to carry.

Hotels:
Hotels, except in Jakarta, start at Rp50,000 but 80 to 100,000 will get you somewhere better with a private bathroom/toilet.
Most of these places don't supply towel/soap/bedding so I take a large microfibre towel, use individual sachets of shampoo (sold all over the place here) and small bars of soap I steal from hotels that do supply it.
Most at that price don't have hot water but this is a hot country so it hardly matters.
Wonosobo and other cold areas, pay more and get hot water.
Last edited by mas fred (2012-10-26 14:32:09)
ViP
From: Jakarta
Registered: 2009-08-02
Posts: 2307
Re: Any advice for Indonesian Travel
One of the most important things a new traveller to Asia has to consider is having a poo poo. This essential element of any holiday is so often ignored by the major travel writers.
This is a sad omission I will correct now.
The most awkward thing a new visitor has to contend with is the squat toilet.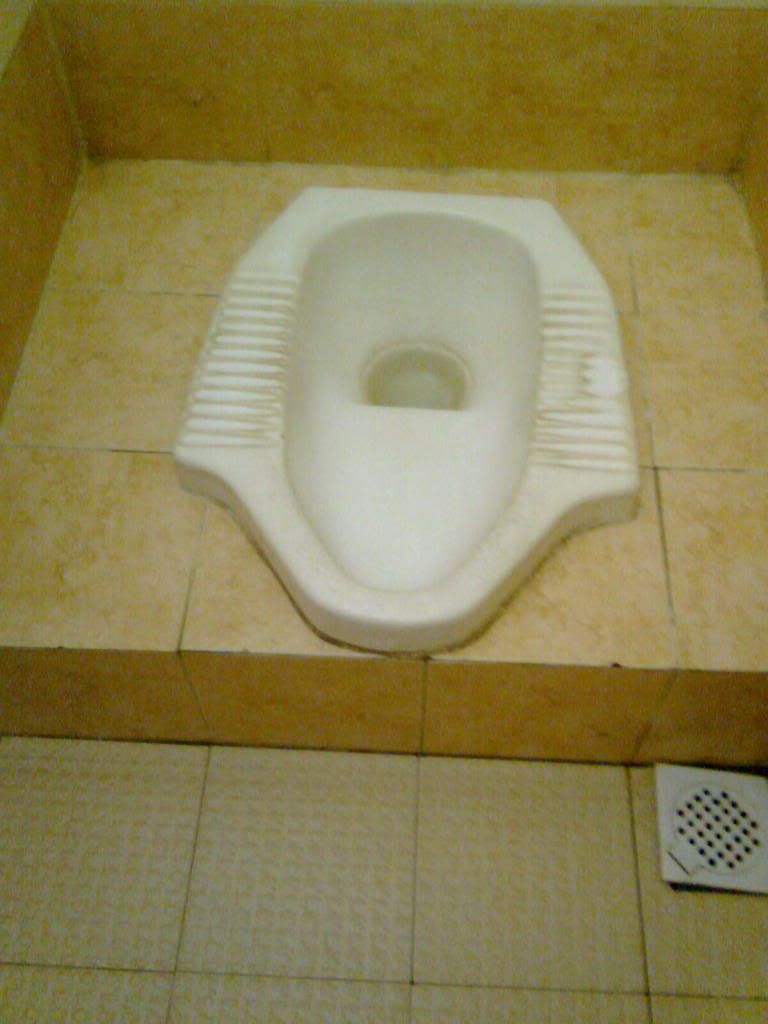 As you can see from this example of a toilet in a petrol station, you don't sit down at all.
To use one, I find it best to completely remove your trousers and underwear before squatting down to 'work'.
New visitors to Asia often find a greater need for being close to a toilet after eating spicy food. Because you will have to remove your trousers, it's better not to leave things until the last moment. The laundry services may not be keen on serving you if you leave things late.
These squat toilets sometimes have a hose to clean the clingy bits but most just have a container of water and a scoop. The idea is you splash water on your bum and use your left hand to scrape away any loose offerings. Many westerners find this a bit off putting so I usually suggest having a pack of soft table napkins with you at all times. These napkins are also handy when eating with your hands as the restaurants usually provide just a few very thin tissues but double up very nicely as wipes. (Wet them first to make things less like sand paper)
It is not advisable to use really rough, very cheap or thin ones.
Public toilets rarely have soap to wash your hands so it's a good idea to have some in your day bag. I usually pinch the small ones from hotel bathrooms.
Almost all expensive hotels have sit down toilets but cheaper hotels and toilet umen (Public toilets) are squats. Newer shopping centers usually have some of both but older places, usually just squats.
The best and cleanest public toilets are in Pertamina petrol stations but many other ones are quite good. Unlike in Malaysia, I have yet to find a brown stuff encrusted, seriously disgusting one but there is time yet.
Finally it's worth noting that, unlike in the west, many restaurants don't have toilets. If you think you may need an 'evacuation', best to go before you eat.
It's very common for western travellers to get themselves invited into homes out here especially if you wander away from tourist traps. A typical Indonesian home or cheap hotel bathroom will be equipped with a squat toilet and a large, square water holder. I have heard of westerners trying to take a bath inside the container. The idea is you use the scoop to pour cold water on yourself. Don't worry about getting the bathroom wet, it's a wet room so no problem.
With that, I hope this will help you when you first come across an Asian toilet and bathroom.
Last edited by mas fred (2012-10-26 14:44:32)
Free advice and quotation service to choose an expat health insurance in Indonesia.
>> Click here
A few tips from professionals about moving to Indonesia.
>> Click here
Discover the benefits of expat banking for people living and working abroad.
>> Click here
Find the professionals in Indonesia in the Expat blog directory.
>> Click here
Useful information about luggage shipping to Indonesia.
>> Click here